The school logo consists of three circles with a flame of knowledge arising from the center. The three circles symbolize the flowering of a child to attain holistic development in the physical, mental, emotional and spiritual faculties. The arc with the school's name on it symbolizes "Learning through fun" under the guiding roof of Bright. The saying "A will will find a way" below the circles explains that if one has a strong determination, nothing can come in one's way from achieving the goal. Our philosophy is to provide pre-schoolers with safe and nurturing environment in order to reach their full potential and become well - adjusted and communicative individuals. We believe that children are not empty vessels to be filled with information and facts. Children have the light inside them. Here at BRIGHT, we spark the flame.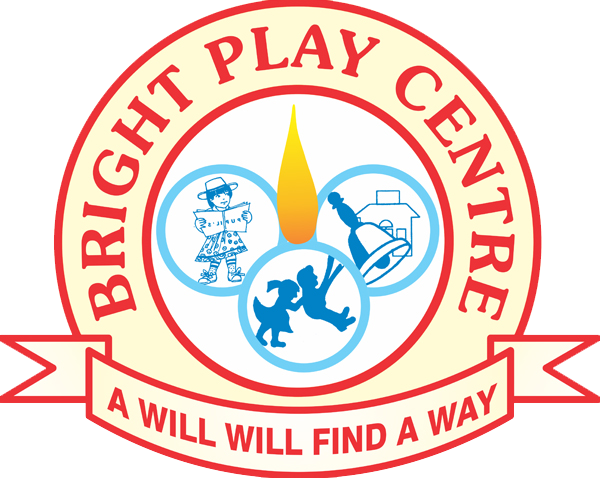 Latest News & Highlights
Link for General Information & Book List 2023-24
What Parents say!
What parents say about our institute "Bright Play Centre".
Dear Teacher,
Hello mam.. I got your message from some of parent about feedback..
As i told you earlier, shaury is very happy with your teaching.. We as a parents also very happy with your teaching. Shaury has missed classes due to his sickness, so he is bit slow in writing but he is practising at home so i am sure that he will match the speed very soon because i understand that next year he is going in 1st std , so he has to work like you are instructing.. After your guidance he is being involved with learning while playing for example he was showing me box in kitchen and said mummy its b o x - box. And you're being so supportive that our child is started to learn by his own, he is being more independent about his own work like open page number, putting books after class, cleanliness, eating all vegetables, fruits with name and its colour.. So we appreciate you for teaching so correct and making him aware about his own work, not only classwork but also household work.. We are really thankful to you....SHAURY PARIKH You really deserve good feedback
Thank You
Regards
Shaury Parikh
Dear Hetal Shah,
Hello mam...
I really like your work and i appreciate your work and way to teach of child.. Aap kabhi kabhi ekdam strict lagte ho fir ek dam se cool agar koi child ki health thik nahi hai koi ro raha hai to aap ekdam se teacher se hatke mumma ban jate hai aese unki care karte ho...
Aap jo bolte ho na matalab be punctual,shower karke bethana hai,prayer thik se karni hai yeh sab muje bahot accha lagta hai..bilkul school wali feelings aati hai... Apne jo school corner banvaya hai wo sabko bahot accha lagta hai even my family nd friends all are appreciated your work...
Muje apse ek suggestions chahiye...Kanishk sabke samane khulkar nahi bolta hai bahot shy ho jata hai ya bhi dar jata hai uske liye mai kya karu??? Sorry mam agar kuch bola aur apko na pasand aya ho to...
Thank You
Regards
Kanishk Patel
Respected Mam,
Happy Gurupurnima Mam.
Thank you for teaching children and giving knowledge. You are truly very nice and lovely teacher with whom Dhruvit is enjoying a lot to learn everything. Thanks for your teaching and spreading knowledge. Your teaching skills are very nice and entertaining through which children learn lots of things while playing. Regards, Charmi Shah (PlayGroup)
Regards
Charmi Shah (PlayGroup)
Dear Madams,
We appreciate your efforts.Thank you for creating a fun and safe educational environment for my child! All the hard work you put in day after day doesn't go unnoticed – thank you for everything. We're so lucky that Hayati Patel has you as a teacher! You have made such a positive impact on my child's and we cant thank you enough. We have no words to say for you but the following quotes are best fitted to you.
"Not all superheros wear capes, some having teaching degrees."
"A good teacher is like a candle – it consumes itself to light the way for others"
Your Sincerely
Regards
Bhaumik Patel & Harsika Patel (Jr. KG.)
Dear Madam,
It has been month now since from the 1st day of school. We are observing that Pragyan has started getting involved in the school activities more as compare to first week of school opening due to your efforts and hard work.
We really appreciate the way you have been teaching students and conceptual learning of subjects and activities.
We are thankful to you and all the faculty of Bright Play Centre for making efforts to get innovative ideas about learning and creative thinking apply into practical.
Regards
Ruchika Bhatt (Jr KG)
Hi,
I am Vaibhavi Raval, parent of Dhimahi Raval studying in Sr. KG mother.
In this pandemic it's not possible to open up school for such young children. But the way you all are managing online session is appreciable.

Regards
Vaibhavi Shukla (Sr. KG)
Dear Teacher,
Being a parent, we were really perplexed whether to enroll my child in a school or not due to pandemic. I believed online classes won't help in moulding my child.
But a diligent teacher like you proved me wrong. Harshali is enjoying your class. She eagerly waits for you. Everything you teach is clear and interesting. You pay attention to every child at the same time fixing communication problems too. Not only a young tree needs nurture and care but saplings need more of it. Time and money is worth utlised.
We feel stress-free.
Wonderful teacher like u deserves all the praise and appreciation.
Thank You
Regards
Minakshi Amit Mishra
Dear Teacher,
Mem Apka zoom session really to good chal raha hai,or niva ko bahut acha sikhne ko mil raha hai. Aap bahut ache se teaching kar rahe ho...niva ko bhi acha support mil raha hai.. So Thnku so muchh mem..we alwys appriciate with u...
Thank You
Dear Teacher,
Thank u Meghna mam..it was wonderful experience of online teaching...We have learnt a lot from teaching as well as activities..Thank u mam for all the efforts that are taken...Worksheet are also very good...Children get lot of practices from that..
Thank You
Dear Archana mam,
Thank you for your hard work in supporting my son as he develop. Your patience and commitment to supporting my child has mean a lot to our family."
"With your guidance, our son has developed into a confident and capable child. Thank you for being such an important part in our child's development."
"Your expertise in teaching has put our minds at ease. We are so grateful to have you as our child's teacher."
Thank you for being so corrective to our child. It means alot. He understands the value of formation while writing ✍️. Rishi now corrects his father when they both doing homework together. Me and Rishi's father both are so grateful to you.
Thank You
Regards
Rishi Mane